Betting odds for the 2016 US presidential election have changed a lot following this week's events. We will take a look at outright winner markets across a few different betting sites. We will also take a look at additional props including state-by-state results and Senate control. Here is what you need to know about the US Presidential Election odds in August 2016.

Where to bet from the US
There are a handful of American betting sites that offer US presidential election odds. Keep in mind that different sportsbooks will offer different lines. Here are some betting sites that we recommend along with the December 2023 promo links:

US Presidential Election Odds
We will be comparing US presidential election odds from various sportsbooks. Pinnacle Sports is currently offering Hillary Clinton at -370 ($370 to profit $100) and Donald Trump/the field at +313 ($100 to profit $313). While Pinnacle does not accept US customers, they do take high-limit action allowing us to see an accurate reflection of the current betting market:
We can take a look at the current US Presidential Election odds at two high-limit American betting sites. 5Dimes currently has Hillary Clinton at -370 and the field at +310. You can also bet on the winning party with Democrats at -420 and Republicans at +335: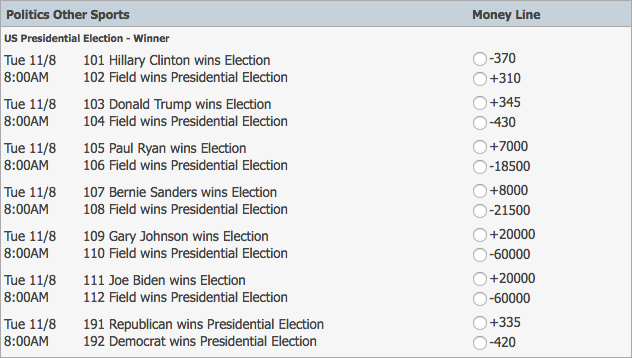 Bookmaker are another sharp high-limit American betting site. They are currently offering Hillary Clinton at -510 and Donald Trump at +375. Party betting includes Democrats at -525, Republicans at +365, and any other party at +9500:
Bovada is known for being one of the most square American betting sites. They are currently offering the Democratic Party at -400, and the Republican Party at +300. Keep in mind these limits are a lot lower than the previously referenced sportsbooks, so do not put any weight into this line:

Additional Election Props
Some sportsbooks are offering additional election props including state-by-state results, as well as control over the Senate and Congress. 5Dimes currently has the Republicans at -230 to lose Senate majority (+170 to keep). Republicans to control Congress and the White House is listed at +365 (-555 against).
5Dimes also has state-by-state markets posted that allow you to wager on which candidate will win certain states. Here is the full list of the prices as of August 12th 2016.
Where to bet from the US
There are a handful of American betting sites that offer US presidential election odds. Keep in mind that different sportsbooks will offer different lines. Here are some betting sites that we recommend along with the December 2023 promo links: